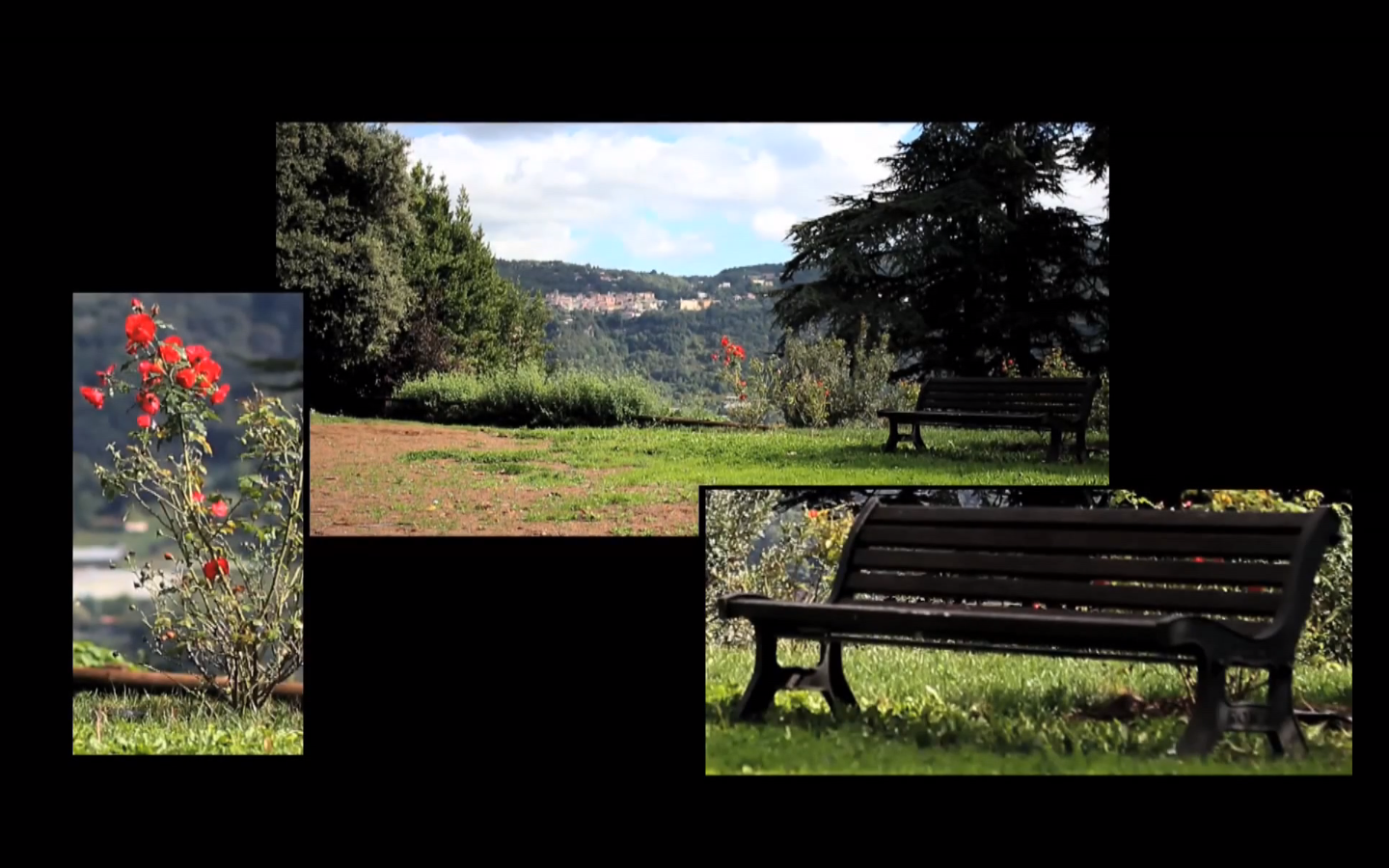 The Secret Garden
The secret garden
Il progetto nasce dall'idea di Roberto Lattanzi ed Alessandro Campagna, al fine di "svelare" i segreti di questo magnifico parco in una chiave diversa, innovativa.
Lo stile inglese del giardino, ha suggerito il titolo del progetto, così come il titolo della colonna sonora originale, "Secrets" composta, da Antonio Filosa, appositamente per questa videoinstallazione.
Videoinstallazione e non cortometraggio proprio per il suo stile.
La durata del film è di circa 5 minuti, ma allo stesso tempo infinita. Infatti, non è determinata. Il video, quindi, non ha un vero inizio ed una vera fine, ma è ciclico. Questo dà modo di accogliere lo spettatore sempre ed in qualsiasi momento.
La struttura differisce dai comuni cortometraggi perché la proiezione è suddivisa in tre quadri distinti, ovvero, la macchina da presa riprende lo stesso soggetto in tre chiavi diverse. Come sfondo un quadro che riproduce il totale, a sinistra un forte dettaglio e a destra un mezzo piano. Questa tipologia aiuta lo spettatore a cogliere maggiormente i dettagli e quindi i segreti del parco, lasciandolo però sempre presente nella dimensione dell'intero parco. Lo spettatore sarà proiettato in un viaggio virtuale tra i sentieri, le cascate e la vegetazione, portando sempre con sé il ricordo di aver visitato uno dei tesori più caratteristici del Lazio.
SCHEDA TECNICA:
TITOLO: The Secret Garden
PAESE: Italia
ANNO: 2012
DURATA: 04′:23" — loop
TIPOLOGIA: Videoinstallazione
GENERE: Documentario
SOGGETTO: Roberto Lattanzi – Alessandro Campagna
REGIA: Alessandro Campagna
MONTAGGIO: Roberto Lattanzi
OPERATORI DI MACCHINA: Alessio Giachetti — Irene Del Piano
COLONNA SONORA: "Secrets" — di Antonio Filosa
SUPPORTO: DVD
FORMATO: 16:9
OPERA PUBBLICATA :
IL GIARDINO SEGRETO – Mostra Collettiva
Gruppo Terre Incognite
a cura di Ilaria Sinisi.
ISBN 978-88-86681-20-8
TUTTI I DIRITTI RISERVATI.